Neuroscience Keys to Transforming Trauma
2-Day Neuroscience Keys to Transforming Trauma
Registration is closed and if you are interested to please contact Dr. Elizabeth Michas about scheduling options for these courses
Join in the revolution to transform trauma treatment, end emotional pain for good, and get your clients to resolution.  Don't get left behind using outdated theories or techniques that make clients worse, so they stop coming for treatment, and feel they are hopeless.  Start integrating into clinical practice what the newest brain science says works. You'll get the keys to a brain-changing conversation for enhancing both integration and rapidly ending emotional pain.
Bring effectiveness with your clients to the next level.
Acquire skills you can use immediately.
Enhance your credibility as you learn the science behind trauma resolution.
Get introduced to a guideline for Emotional Pain Intervention (EPI)® for trauma/PTSD.
Discover the benefits of using brain science in sessions.
Check-out new possibilities for rapid, transformational change with memory reconsolidation.
Gain trauma competent treatment skills and the scientific basis for rapid, effective results that last!
This training is for Mental Health professionals only!
EPI Trauma Resolution Training Schedule
2 Day With Optional 1-Day Hypnotherapy for Trauma Resolution
Registration is closed and if you are interested to please contact Dr. Elizabeth Michas about scheduling options for these courses
Lunch will be provided as well as light refreshments throughout the day.
Registration
Fee for the 2-day course is $497. Take advantage of Early Bird discount of $100 off by registering by November 16, 2017. Use Promo Code EARLYBIRD when registering.
Early Bird & Repeater $200 Off Discount (Must have taken a prior course). Use Promo Code: EARLYREPEAT.
Fee for the optional 1-day hypnotherapy course is $150.
Fees for each course must be paid at the time of registration.
2-Day Neuroscience Keys to Transforming Trauma
Or, if you prefer, send a check to:

MindWorks Psychology, LLC
814 Shadow Lane Suite C
Ft. Walton Beach, FL 32547

CEUs are included in course fee.
CEUs Available
MindWorks Psychology will provide 15 continuing education contact hours for LMHC, LCSW, LMFT and Psychologists. 7 additional continuing education credits are available when the 1-day Brain-Based Hypnotherapy for Trauma Resolution is taken. MindWorks Psychology, LLC (#50-19776) is approved by Florida Board of Psychology, Florida Board of Clinical Social Work, Marriage & Family Therapy and Mental Health Counseling to provide continuing education.
What Others Are Saying
"Dr. Michas has created a model that joins the science of the brain with common curative factors in psychotherapy. After training with her I'm confident that I can be effective in eliminating emotional pain."
Melinda Paige, Ph.D., LMHC, LPC, CPCS, NCC
"With my seven years of advanced training in trauma work, Elizabeth's presentation The Neuroscience Keys to Transforming Trauma established a clear, research based framework and biological science understanding of the process I have been using all these years."
Kathleen Gierhart LMHC, CAP, RTR Gainesville, FL
Training Location
Travel and accommodations costs are not included and should be made independent of workshop registration. Options for accommodations are listed below.
The training will be held at The Breakers on Okaloosa Island in Fort Walton Beach, FL.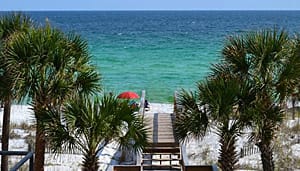 The Breakers
381 Santa Rosa Blvd.
Fort Walton Beach, FL 32548
Phone: (850) 244-9127
www.breakersfwb.com
Contact: Ethan Whited – Ask for special rate
If you prefer to stay at a local hotel, the Best Western is located within walking distance of our training.
Best Western – Okaloosa Island
380 Santa Rosa Blvd
Fort Walton Beach, FL 32548
Phone: (877) 243-9444
www.bestwesternfwb.com